With pressing global issues like climate change, social inequality, and corporate governance in the spotlight, investors, regulators and consumers alike are laser-focused on Environmental, Social, and Governance (ESG) factors when considering decisions. But many enterprises are still scrambling to understand what ESG is, how it impacts their organization, and how to get started on ESG reporting. This white­paper will demystify the environmental pillar of ESG, equipping you with the knowledge and tools needed to establish environmental reporting that aligns with your business objectives - and regulatory requirements.
In this whitepaper, we'll tackle high-level topics, including how to:



Identify Your ESG Task Force: Learn how to assemble a dedicated team to drive your ESG initiatives, ensuring cross-functional expertise and buy-in from key stakeholders.


Define Your ESG Goals: Understand the importance of setting clear and measurable environmental goals that reflect your organization's values.


Select Frameworks: Navigate the array of ESG frameworks available and choose the one that best suits your industry, size, and reporting requirements.


Gather and Analyze Data: Discover how to get started collecting, analyzing, and reporting accurate environmental data, enabling informed decision-making and transparency.


Implement Internal Controls: Establish internal controls and processes to ensure accurate data collection, reliable reporting, and adherence to environmental standards.
Don't miss this opportunity to gain a solid understanding of environmental reporting within the ESG framework. Complete the form above to download our "ESG Made Easy: A Beginner's Guide to Environmental Reporting" whitepaper, and embark on your ESG journey today.
Complete the form below to read ESG Made Easy:
A Beginner's Guide to Environmental Reporting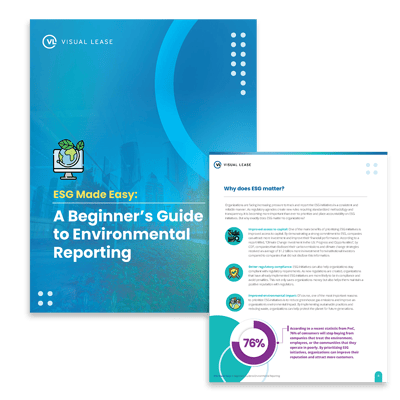 More than 1,500 companies trust Visual Lease with their lease portfolio