The International Sustainability Standards Board (ISSB) standards are set to become effective for reporting periods starting January 1, 2024. These new standards are a significant step forward in the evolution of sustainability reporting, and they will have a major impact on the way companies disclose their Environmental, Social, and Governance (ESG) initiatives.
Discover how the ISSB is revolutionizing the world of sustainability reporting in our comprehensive white paper - "From Voluntary to Mandatory: A Complete Guide to the ISSB Sustainability Standards".
In this whitepaper you will:



Understand how ISSB standards transform sustainability reporting and combat greenwashing.


Learn about IFRS S1 and S2 requirements, their applications, and industry-specific disclosures.


Discover the significance of top-down and bottom-up sustainability approaches for organizational success.



Explore ISSB's temporary relief and its impact on Scope 3 GHG emissions reporting.
Get the essential insights you need to navigate the changing sustainability reporting landscape. Download our white paper today and lead the way to a more accountable future.
Discover the Path to Sustainable Reporting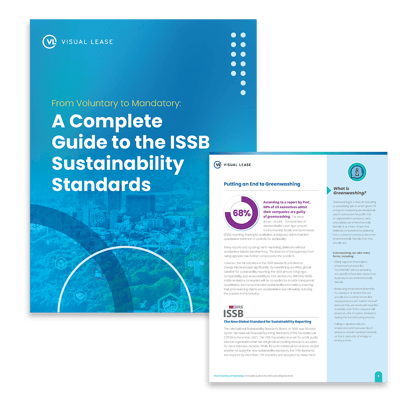 More than 1,500 companies trust Visual Lease with their lease portfolio