Identifiers…Indemnity clause…Triple net…What does it all mean?
With the new lease accounting standards (ASC 842, IFRS 16, GASB 87), today's accounting teams not only face the challenges of implementing the standards and achieving compliance. You must also become familiar with a whole new language — the language of leases.
This guide was created to help accounting professionals build a working knowledge of leases as they relate to lease accounting practices.
You will learn:
The various types of lease contracts

Differences in accounting treatments according to lease type
The lease information that typically needs to be tracked for accounting purposes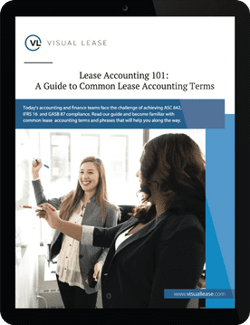 More than 1,500 companies trust Visual Lease with their lease portfolio.