Is your organization debating whether to utilize an Excel spreadsheet or dedicated lease accounting software to comply with lease accounting requirements?
While there are multiple reasons to consider using a spreadsheet, such as a considerably low number of leases, familiarity with Excel or a low lease accounting budget, you should be aware of how it compares to an automated solution.
Although spreadsheets are inexpensive, they are manual, time-consuming and prone to error. Organizations that rely on spreadsheets for lease accounting will run into challenges when performing essential lease accounting tasks, like producing calculations or maintaining lease data.
What it boils down to is that automation is not a nice-to-have – it is essential to reduce the risk of having incomplete and/or inaccurate lease data.
In this whitepaper, you will learn:
The difference between using spreadsheets and software for lease accounting tasks

The risks of incomplete or inaccurate lease data (a likelihood with Excel spreadsheets)
Time savings and efficiencies of using technology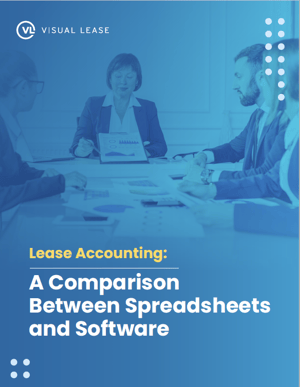 More than 1,500 companies trust Visual Lease with their lease portfolio.